Prevent Windows from updating to Windows 10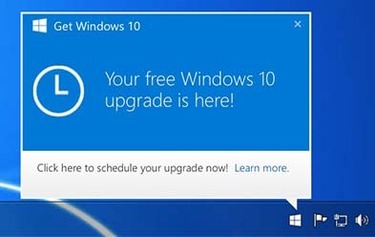 If you are running Windows 7 or Windows 8-8.1 and you don't plan on updating your system to Windows 10 you might want to get rid of that annoying little pop-up icon in your system tray telling you that your copy of Windows 10 is ready to install.  By the end of this post you will have not only hidden the Windows 10 Upgrade pop-up but remove the system update that controls it. If you have already updated to Windows 10 you still may be able to revert back to your previous version of Windows, "see the end of post".
Step 1. Uninstall the KB3035583 update from your system, this will prevent your system from downloading Windows 10.
Open Windows Update by going to Control Panel -> System and Security -> Windows Update, or search for it.
Click on Installed Updates on the bottom left corner.
Locate and select the Update for Microsoft Windows (KB3035583) update under Microsoft Windows section. You can search for KB3035583 in the search box on top left corner.
Click on Uninstall to remove the update.
Click Yes to confirm.
When uninstallation process is completed, restart the computer.
Step 2. After the system restarts you will want to hide the update so it is not downloaded again.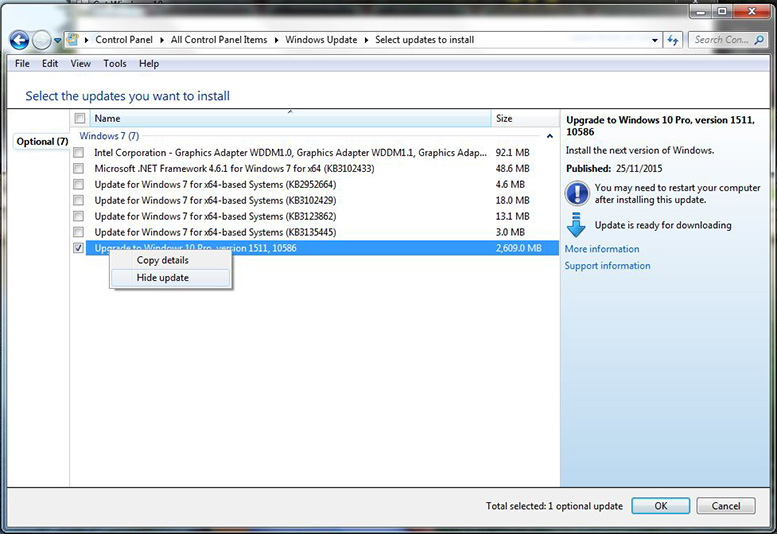 1. Click Start, point to All Programs, and then click either Windows Update or Microsoft  Update.
2. Click Custom.
3. Click to clear the check box that is next to the update that you want to hide.
4. Expand the update that you want to hide, and then click the "Don't show this update again" check box.
5. Click Review and install updates.
Step 3. Last you will need to Click "Customize" in the System Tray and choose to hide the GWX icon, this will turn off the Get Windows 10 app notifications in the menu that comes up.
Congratulations! You have just removed the ability to upgrade your computer to Windows 10, you can un-hide the KB3035583 update in Windows Update and upgrade to Windows 10 at a later time. If you have already upgraded to Windows 10 and it's been less than a month since you upgraded, you can go back to your previous version of Windows by going to Settings > Update & security > Recovery  and selecting either Go back to Windows 7 or Go back to Windows 8.1. This won't affect your personal files, but it will remove any apps you installed after the upgrade to Windows 10.
Please contact us if you would like to book a technician to help you with your removal of the KB3035583 update or Recovery from Windows 10, or call to make an appointment for an On Site Visit.
Call Wise I.T. Today (949) 682-WISE (9473)
Wise Solutions
Wise Prices
Wise I.T.