3 reasons to upgrade your older systems
Enhance Security
Increase Productivity
Decrease Costs
Security
Windows 7 operating system from Microsoft helps simplify computer security, making it easier to reduce the risk of damage caused by viruses, spyware and other malware. Windows 7 backup solution will help keep your information safe, and improved parental controls help you protect your family.
The Action Center: security information at your fingertips
Windows 7 Action Center in the Control Panel helps make sure that your firewall is on, antivirus software is up to date, and your computer is set to install updates automatically.
Protect your data from theft, hackers, and accidental loss
BitLocker Drive Encryption encrypts your Windows hard disk to help keep documents, passwords, and other important data safe, with BitLocker, any file that you save on that drive is encrypted automatically.
Windows Firewall can also help protect your computer from hackers and malicious software. With Windows 7, the built-in firewall is more flexible and easier to use than before.
The Microsoft backup system is also improved for Windows 7. Backup and Restore creates copies of your most important files, so you're always prepared for the worst.
Defend your computer against viruses, spyware, and other malware
Microsoft Security Essentials is a free download for Windows 7 that helps protect your computer from viruses, spyware, worms, Trojans, and other malware. Windows 7 also includes Windows Defender which helps protect your computer from pop-up ads, slow performance, and security threats caused by spyware and other unwanted software.
Reduce risk by enhancing security and control
Windows 7 makes it easier and less intrusive to run your computer as a standard user instead of as an administrator. Windows Vista introduced User Account Control, a feature that warned you when a program wanted to make a change on your computer. Windows 7 improves on this feature, which means you'll get the same level of protection, but with fewer messages.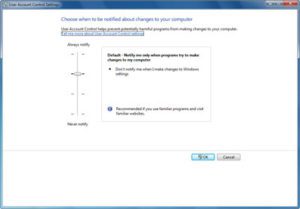 Help protect your family
Windows Vista included parental controls, but they are new and improved for Windows 7. Now they're more flexible and easier to use. With Windows 7 Parental Controls you can:
· Prevent your children from playing games you don't want them to play.
· Keep your children from running specific programs.
· Set specific time limits on your children's computer use.
Parental Controls in Windows Media Center (available in Windows 7 Home Premium and above), you can also block access to objectionable TV shows and movies.
Productivity
Windows 7 did introduce some new features that can increase the productivity. Here are five ways that Windows 7 help increase productivity throughout the day.
1. Taskbar previews
The Windows 7 taskbar has been completely revamped in, it is now possible to stick applications to it, see the number of open windows and thumbnail previews or make use of jumplists. The features like the thumbnail previews which allow you to quickly find the Firefox, Thunderbird or Internet Explorer tab that you're looking for and the new icons that show the amount of open windows and that display file transfers. Save time using these previews, imagine Internet Explorer with ten open tabs, before to access a specific tab you previously had to display the window again, locate the tab in the web browser and click on it. In Windows 7 just hover the mouse over the taskbar icon, locate the tab and click on it to be taken directly to the desired Internet Explorer page.
2. Libraries
Do you store multimedia files in various locations of the operating system which are located on various hard drives and in various structures. Vista and XP only concentrating on the My Documents hierarchy for those files; this meant a lot of file searching or a lot of self-discipline to build centralized storage for multimedia files. Even then you could run into trouble and run out of hard disk space on your primary hard drive. Now with Windows 7 libraries basically virtual folders can display the contents of multiple folders in a folder structure. With that it is now possible to access multimedia files in one folder on the hard drive even if those files and folders that are displayed are spread over multiple locations and hard drives.
3. Aero Peek, Aero Shake and Snap
The new Snap feature Windows 7 allows you to arrange two windows next to each other having one of the windows to the right side and one to the left. They will automatically be positioned so that each is taking up half of the screen of the computer monitor. It is also possible to move the window to the top to maximize it. Aero Shake is used to minimize all but the active window by shaking it around on the computer desk. Aero Peek is used to peak through the windows to see the computer desktop which is convenient for users to use gadgets in the operating system.
4. Automatic recognition of digital cameras
Connecting a digital camera to Windows 7, the operating system automatically recognize the camera and offered to copy the pictures that I had taken to the hard drive in a menu that was automatically be displayed. This was comfortable and without any pre-configuration on my part. Windows XP had to install software for your digital camera so that it would be recognized by the operating system when connected.
5. Windows 7 Homegroup
With Windows 7 Homegroup makes it easier to create a home network and share files and printers with users on the network. Setup has been simplified and takes only a few minutes tops to set it up. The shared folders and printers can be accessed in the places sidebar in Windows Explorer. There are many more new tools in Windows 7 to discover like the snipping or note taking tool, while having similarities to Vista Microsoft managed to add and change features in Windows 7 that actually help aid the user in completing their tasks faster and with less knowledge required.
If you already have Windows 7 and want to learn some time saving shortcuts please see Wise I.T.'s Walkthrough page
Decrease Costs
Prices of new systems have dropped in comparison to what you paid for a decent system five years ago you will now get improved new core processor's (dual, quad, and six), faster memory, lager hard drives for all your important documents and photos running Windows 7. Windows 7 runs with fewer background activities so your PC processor doesn't work as hard and draws less power. Other innovations include less power-hungry DVD playback, automatic screen dimming, powering off unused ports, and a more accurate battery-life indicator. So you'll be less likely to be surprised by a dead battery.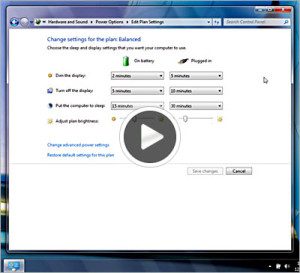 Make sure you see an energy star logo on the new system your purchasing, you can find these logos on laptops, desktops, printers and monitors. Windows 7 operating system can help with reduction in OS-related help desk calls, increased end-user satisfaction, and 10 percent or better reduction in operational costs. Deciding to replace aging desktop systems with new notebook PCs can bring additional productivity benefits to many businesses saving money in the long run.
Save today on the installation and transfer of your data with Wise I.T.'s new Wise Deal Package