Are your financial/business files or personal files like photos, music on a single hard drive with no backup?

Even your home system has crucial data you wouldn't want lost when a hard drive goes belly up, it could happen from a virus (or mischievous child) deletes your files, hardware failures, freezes, crashes, or other many other hard drive failures as you may have seen in our Wise Blog Data Recovery (this service could cost thousands of dollars)
Wise I.T. can help you figure out a convenient and effective way to protect your data at a low cost by making redundant copies of it to an External Hard Drive or Network Area Storage (NAS). External Hard Drives have become the standard storage device for backups in the last few years, CDs and DVDs just don't have the capacity needed for today's users and tape is both pricey and prone to errors. You might consider two external hard drives: one kept at home, another kept some where safe, such as a safety deposit box. Flash drives are another option for single computers.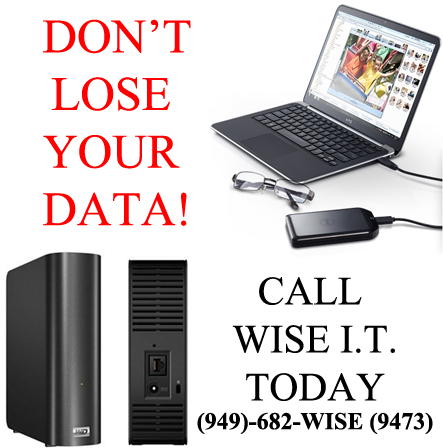 In many cases automated processes can be created that require very little attention or maintenance.
Full backup of your operating system, applications, settings and personal files
Build schedules for future backups
Backup will be made to a second internal hard drive or an external hard drive (not included)
Wise Solutions
Wise Prices
Wise I.T.