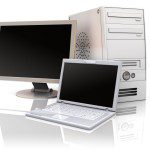 Buying a new computer can be as confusing as buying a new car, you want one with enough pep to get you where you're going and maybe a little extra to help you out down the road. Computers can range in price depending on the hardware used in the system like CPU or processor type, RAM or computer memory, Video Card integrated/dedicated graphics, and Hard Drive SATA/SSD storage space.
---
Here are a few questions to ask yourself when buying a new computer.
1.  What type of user am I?
Home Users

: You use your computer to check your email, surf the internet, and to create or print that occasional document.
Business Users

: You use multiple programs (Word, Excel, QuickBooks) at the same time, and have your browser open to many tabs.
Expert Users

: You use programs that use a lot of memory or rendering software which needs a processor with many cores and threads (Graphics and CAD Software, Video Editing, Audio Editing, Programming compilers)
2. Laptop or Desktop?
Laptops

: Do you need a computer that is portable and suitable for use while traveling?
Desktops

: Do you need a computer for a certain location in your home or office?
3. What is my budget?
If you're looking to save some money on your next computer purchase try the following:
Purchasing a desktop rather than a laptop can save you a few hundred dollars depending on the system configuration
Purchasing a laptop or desktop with integrated graphics rather than dedicated can save you some money.
Purchasing a laptop or desktop with a SATA hard drive rather than a the more expensive SSD (Solid State Drive)
---
Get your next PC with our 

Computer Buying Guide

 
| | | | |
| --- | --- | --- | --- |
| User Type | Home | Business | Business/Expert |
| Model | Core i3 | Core i5 | Core i7 |
| Number of cores | 2 | 2/4 | 4 |
| Turbo boost | No | Yes | Yes |
| Amount of Memory | 4 GB – 8GB | 8GB – 16GB | 16GB – 32GB |
| Video Card | Integrated | Integrated / Dedicated | Dedicated |
| Hard Drive Type | SATA | SATA – SSD | SATA  + SSD |
If you are looking for more power Contact Us about Workstations and Servers with Xeon processors.